Chassis Liner Frame Rack Can Handle Both Cars and Trucks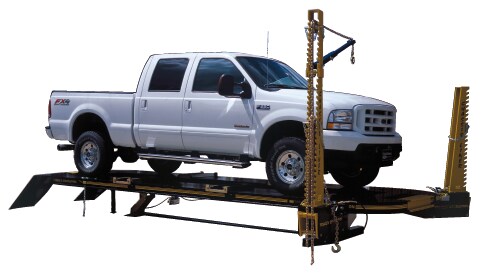 One of the most common concerns that our customers have is in regards to the frame on their vehicle. Many people still believe that once a frame is bent, a vehicle cannot be returned to its original pre-accident condition. This is simply not true in most cases. All vehicle manufacturers have recommendations on the correct way to repair the frames on their vehicles. By following manufacturer guidelines, and investing in the right equipment and personnel, a vehicle's frame can be returned to its original pre-accident condition.
At Don Wood Automotive we have invested in the finest frame repair equipment from our Chassis Liner Frame Rack to our Velocity Frame Measuring System, which is considered to be "the worlds most accurate".
Our commitment is to return your vehicle will be to pre-accident condition.
---
The Worlds Most Accurate Frame Measuring System

We realize that our clients and insurance companies are requiring the use of computerized measuring as part of the repair process. And at Don Wood Automotives Collision Repair facility we offer Chief's® Velocity measuring system which is far and away the most sophisticated. We offer full-color, one-page reports on the exact condition of the vehicle's frame before, during and after repairs have been made for indisputable evidence of damage severity and quality repairs.
Peace of mind…. No guessing … The Worlds most accurate laser measuring system.